Read our genuine reviews, statistics and clinical study results below.
Angileta
Mother, United Kingdom
I cannot thank you enough! First time mum using Aniball and I had no stitches, had the shortest second stage possible and to top it all off my baby came out direct OP. So really should have needed some degree of stitching or intervention to help her out and thanks to Aniball I needed nothing all! I cannot recommend it highly enough and think every woman should be using Aniball. Thank you so much.
Linda
Mother, United Kingdom
I had a very unpleasant experience with my first labour which caused me a lot of pain in the weeks that followed. With my second little girl on the way, I tried Aniball. I practiced for 3 weeks and it was a fantastic and complication-free experience. No tearing at all. I was able to enjoy my daughter and take care of her immediately.
Chloe
Mother, France
My experience with Aniball is unambiguously positive. After many negative experiences with the birth of my first daughter (3200/51cm) I wanted to try anything to make my childbirth easier, and we succeeded by using Aniball. I regularly practiced with the Aniball 4 weeks before term and it paid off. I gave birth to a son measuring 3800/54cm, without needing incisions, the help of a doctor or stitching. The doctor, who watched it all from a distance, couldn't believe it. It was really a miracle and I will remember this birth for the rest of my life.
Monika Ziman
Gynecologist, Czechia
The exercise with the Aniball balloon and the massaging of the perineum should be part of the preparation for each woman's natural birth. From my personal experience: as a primipara, I knew which position during childbirth would be most suitable for me, I knew the feeling of when the child's head was crowning and how to push; and I gave birth naturally without the least injury. I was preparing myself for 30 cm and my son's head circumference was 34.5 cm. Aniball is effective and safe.
Emma
Mother, Germany
I can only recommend Aniball, it is a great preparatory aid for childbirth. My daughter was 4.2 kg with a head circumference of 37 cm. The birth did not require an episiotomy. The recovery period after birth went smoothly and exactly one week later I was able to ride a horse. I dare to say that giving birth for the first time with such a large baby, I would not have made it without an injury had I not exercised with Aniball.
Barbora Voros
Midwife and Nurse, Slovakia
Aniball is easy to use and more effective than a perineum massage. For me, the biggest child born after Aniball use was 4650 g and 54 cm, with the childbirth lasting 3 hours, without any tearing or needing an episiotomy. Most women who use Aniball gain self-confidence for the labor. They know how to push, decreasing their fear and stress whilst reducing the risk of perineal tearing or the need for an episiotomy. I recommend Aniball to everyone because of its very reasonable price and excellent results.
Suzanne
Mother, Netherlands
I gave birth to a beautiful baby boy. This was my first pregnancy and because of my fear of tearing I started with Aniball. The delivery was absolutely smooth. It was literally two presses and I was told that there was no damage at all. As if I had not given birth at all. I felt excellent. I benefited greatly from exercising with Aniball and it reduced my fear of tearing. The training helped me prepare mentally for the birth, which was also nice.
Jana Curdova
Midwife and Mother, Czechia
I see Aniball as a useful aid to understanding your body. It helps a woman discover how her body works during childbirth and what kind of sensations she will feel in the final labor stages.
Charlotte
Mother, New Zealand
When I had the balloon in my hands I was a little doubtful about the results and the possible assistance in childbirth preparation. But I saw a certain logic in it and what is practiced really works. I knew that if a balloon with the diameter of a newborn's head "passed" through me, my daughter would come out without problems. The actual delivery was quite fast, uncomplicated, without medication and, most important of all, without any consequences! No cutting or small tears. A natural childbirth.
Marian Kollar
Gynecologist, Slovakia

Aniball is a great tool that helps women prepare their body for delivery. Women who have used it are much better prepared for birth – both in mental and physical terms. They know how to work with their muscles in the final stage of delivery. From my experience, I can confirm that there is a lower risk of injuries or requiring an episiotomy. In addition to this, women who used Aniball are much more active after giving birth than other new mothers at our clinic. Aniball is also helpful in the postpartum stage to strengthen muscles in the pelvic floor.
Olivia
Mother, Switzerland
Thanks to Aniball, my childbirth was a beautiful and fearless experience. I exercised every second day from 36th week and the effect was unbelievable. I was apparently one of the shortest second stages in our medical centre. Both doctor and my midwife were really surprised how smooth it was. I also want to emphasize the psychological effect of the balloon which helped me a lot to be confident.
Exercising with Aniball shows significant decrease in the risk of tearing and episiotomy.
The vast majority of women would recommend Aniball as the best method of birth injury prevention.
Percentage of injury-free births after exercising with Aniball (800+ mums).
97% of women said Aniball helped them both physically and mentally during their childbirth.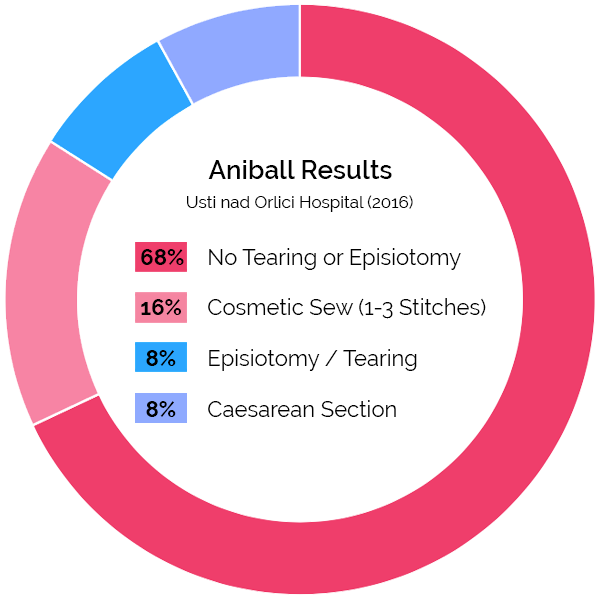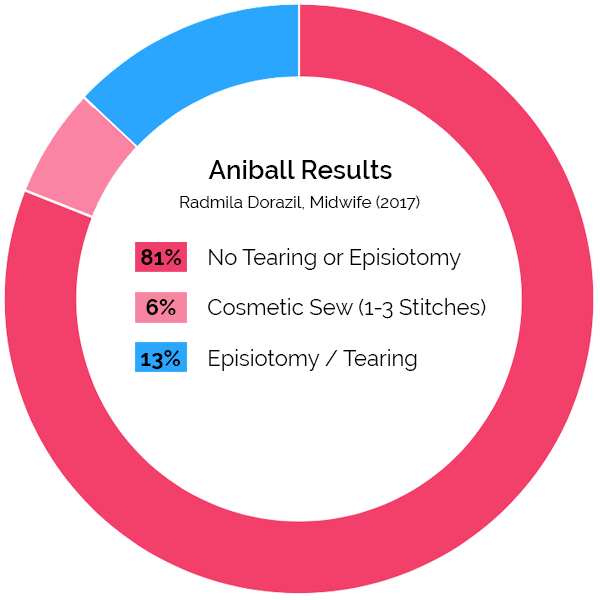 An independent clinical study confirmed Aniball is the most effective method of birth injury prevention.
Study confirms there was a significantly higher number of women with intact perineum after the use of Aniball as well as significant reduction of episiotomies.
Data also showed that other methods such as perineal massage, raspberry-leaf tea or linseed had no real effect on injury prevention.
Get Your Aniball Now and Experience Natural Birth
⭐⭐⭐⭐⭐
"I cannot recommend it highly enough and think every pregnant woman should be using Aniball. Thank you so much!" - Angileta, UK
⭐⭐⭐⭐⭐
"I cannot recommend it highly enough and think every pregnant woman should be using Aniball. Thank you so much!" - Angileta, UK
✓ Prevent tearing and episiotomy
✓ Shorten your childbirth
✓ Avoid incontinence
✓ Recommended by doctors
✓ Safe to use and certified
✓ Used by 100,000+ happy mums
What's in the package?
✓ Aniball Childbirth Exerciser
✓ Discreet & Stylish Travel Bag
✓ Diary, Pencil & Measurement Tape
✓ Manual & Exercise Guide